Fred Hutchinson Cancer Research Center
Chefs Dinner - Branding & Print Design
Chefs Dinner is a annual event featuring delicious wines, hors d'oeuvres and a four-course dinner prepared by the Northwest's premier chefs. To create the theme for this year, the project began with a branding exploration in warm organs and citrus tones. Once a logo was created, designs for invitations, menus, posters, ads and various materials were made. My role with this included working with key stakeholders and handling the print and production of all materials.
This design received a Hermes Creative Award.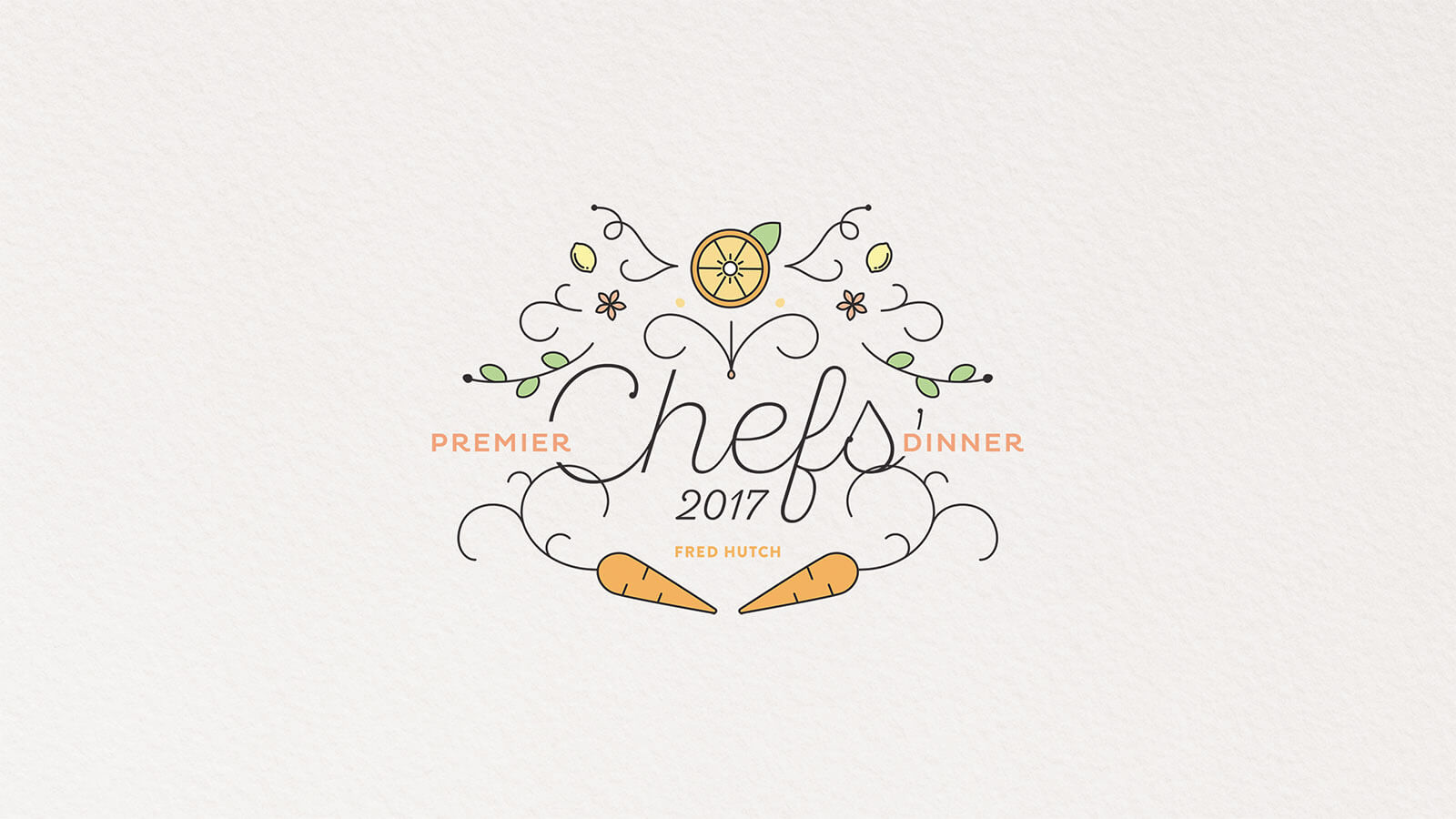 Development - Logo, invitation & event items.
I was originally presented with mood boards that had everything from pastel pinks, to vivid yellows. When the final direction of citrus was decided upon, I was able to explore a new feel to create a delicious range of products.
NACCDO / PAMN 2018 Conference Branding
Branding design created for the upcoming conference that will be hosted on the Fred Hutch Campus.
Immunotherapy Motion Graphic Videos
Immunotherapy is a complex subject that is a key in the Hutch's vision for the future of cancer research. Understanding the process of immunotherapy treatment is not the easiest to grasp, so we created a variety of videos for a range of different educational purposes. The varying styles of illustrations and explanation styles reflect on different stakeholder and audience needs.
Immunotherapy - An Introduction
I worked with the stakeholder on this project to produce a storyboard, and then created a unique visual identity for this short informational video.
This is only a draft, and is still in an editing phase.
Holiday Card From the President's Office
This was a holiday card that came directly from the President's office.
Unused Designs / Sketches
HUTCH Magazine - Illustration & Layout Design
Hutch Magazine is a quarterly to semi-quarterly magazine that covers a variety of subjects related to Fred Hutch. This issue was centered around MicroBiomes, and the theme was "the Jungle within you".
Editorial Illustrations
New Years Resolutions
Small steps you can make for a healthier future. Read the story here.
Good Cancer
A story on the term and how patients reactions towards it. Read the story here.
Post Card (Unfinished Sketches)
These were to be welcoming postcards sent to first time participants during the annual giving campaign in December. Although the project was shelved, I still produced a few sketches!